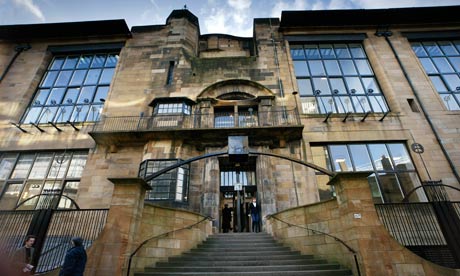 By Anne-Marie O'Donnell

Firefighters say they have been able to save more than 90 per cent of the structure and 70 per cent of the contents of Glasgow's School of Art following a devastating blaze on Friday.
On Friday evening, Scottish Fire and Rescue Services were still working to ensure the fire at the historic building had been extinguished, while the Scottish government was quick to pledge any support after the news emerged.
The iconic building was designed by Charles Rennie Mackintosh in the late 1800s, and was a tourist attraction for more than 20,000 people every year. It's understood all members of the public and students were evacuated from the building.
Emergency services were called to deal with the fire at around 12.30pm on Friday afternoon, and spent several hours trying to contain the situation. Members of the public on the scene took to Twitter to express their shock at the scenes unfolding before them and tweet photographs.
At 9.30pm, Assistant Chief Officer Dave Boyle of the emergency services said that crews had worked "absolutely flat out" to try and save "this treasured building and many of the items it housed".
"While the priority from the outset was to save life we have also been working closely with Glasgow School of Art staff to ensure firefighters conducted an effective salvage operation.
"We are of course very conscious the Mackintosh is a world renowned building that is a key feature of this great city, and that the artworks it stores are not only valuable but also cherished."
The historic building has continued to be a functioning art school for students since its creation in the late 1800s by Charles Rennie Mackintosh, despite becoming a tourist attraction due to its cultural significance.  When the fire happened, the school had only shortly before opened an additional building, the £30m Reid building, which recently won an architectural prize.  Students at the school were in the process of setting up an end-of-year exhibit when the fire took hold, and it is yet unclear how much of their work was destroyed.
Responding to the news, Scottish culture secretary Fiona Hyslop said the incident was "devastating".
"While thankfully nobody has been hurt in this fire, the destruction of this iconic building is devastating news any my thoughts are with the staff and students who have seen the terrible loss of their workplace and academic work."
She added: "The Scottish Government and Historic Scotland stand ready to support Glasgow School of Art, staff and students in the short term as well as offer technical advice, emergency conservation and restoration support when the situation becomes clearer."
First Minister Alex Salmond said it was "awful to see destruction of this iconic building and students' work".